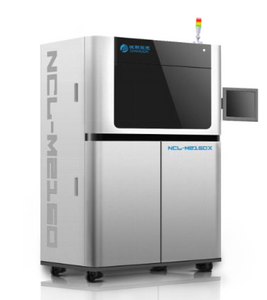 Please call for more informations: 03 8522 1666
NCL-M2150X
DENTAL SPECIAL METAL 3D PRINTER
Software operation: a full set of 3D printing software with independent intellectual property
rights, which can be customized in depth according to customer requirements.

Technical advantages: using SLM selection laser melting technology, compared with
traditional manufacturing methods, which can saving the manufacturing cycle to the greatest
extent, and meanwhile meet individual needs and improve manufacturing accuracy.

Purification system: The external purification system has the functions of cyclone dust
removal, filter element back blowing, and wet atomization, which effectively guarantees the
safety of filter element replacement, increases the service life of the filter element, and can
effectively improve the powder utilization rate.

Dust filter: minimum dust removal rate can reach 99%, the filter service life is 1500 hours.
Control efficiency: Unattended operation, greatly improve the production efficiency,
eliminate the complicated processes and manual errors of traditional processes, to achieve
the data to the product in one step, and ultimately ensure high-quality production.

Printed parts: Reasonable and compact structure, high precision and density, good finish.