【9.1-inch 6K Mono LCD】ELEGOO MARS 4 Max features a 9.1-inch monochrome LCD screen with a resolution of 5760x3600 and an XY resolution of 34um, and printing speed up to 70mm/H. The 9H hardness tempered glass with excellent light transmission protects the LCD screen from scratches and damage caused by resin dripping or penetration.
【COB+ Refractive Light Source】MARS 4 Max adopts the COB+ refractive light source to ensure that the emitted 405nm wavelength beam is more vertical and uniform on the entire LCD screen after refraction. Paired with the full grayscale anti-aliasing algorithm to make printed models with finer and more realistic details and a smoother surface.
【Large Build Volume】The large build volume of 195.84x122.4x150mm (7.71x4.81x5.9 inches) provides you with more creative space to print a large model or print multiple parts in batches, thus increasing your productivity.
【Efficient Heat Dissipation】Double fan cooling system design, one for air inlet and the other for air outlet, has faster air circulation and higher heat dissipation efficiency, which extends the service life of 3D printers.
【Voxeldance Tango Software】It has 3 printing modes: static mode and dynamic mode (including smooth and high-speed mode). In dynamic mode, when the printed model cross-section is small, the print lifting speed is faster to improve printing efficiency; on the contrary, the printing speed will slow down. Combined with ELEGOO self-developed new open-source GOO slicing format, which supports multiple slicing software without restriction.
【Refreshing Printing Environment】The plug-in air purifier with a built-in activated carbon filter reduces resin stink for a refreshing printing environment. In addition, ELEGOO's first large-sized air purifier (210x247x410mm) with 95% VOC purification efficiency will be available soon. (Requires separate purchase)
ELEGOO MARS 4 Max MSLA 3D Printer, UV Resin Photocuring Printer with 9.1-inch 6K Monochrome LCD, Double Cooling Fans, Multiple Print Modes, Printing Size of 195.84x122.4x150mm / 7.71x4.81x5.9 Inches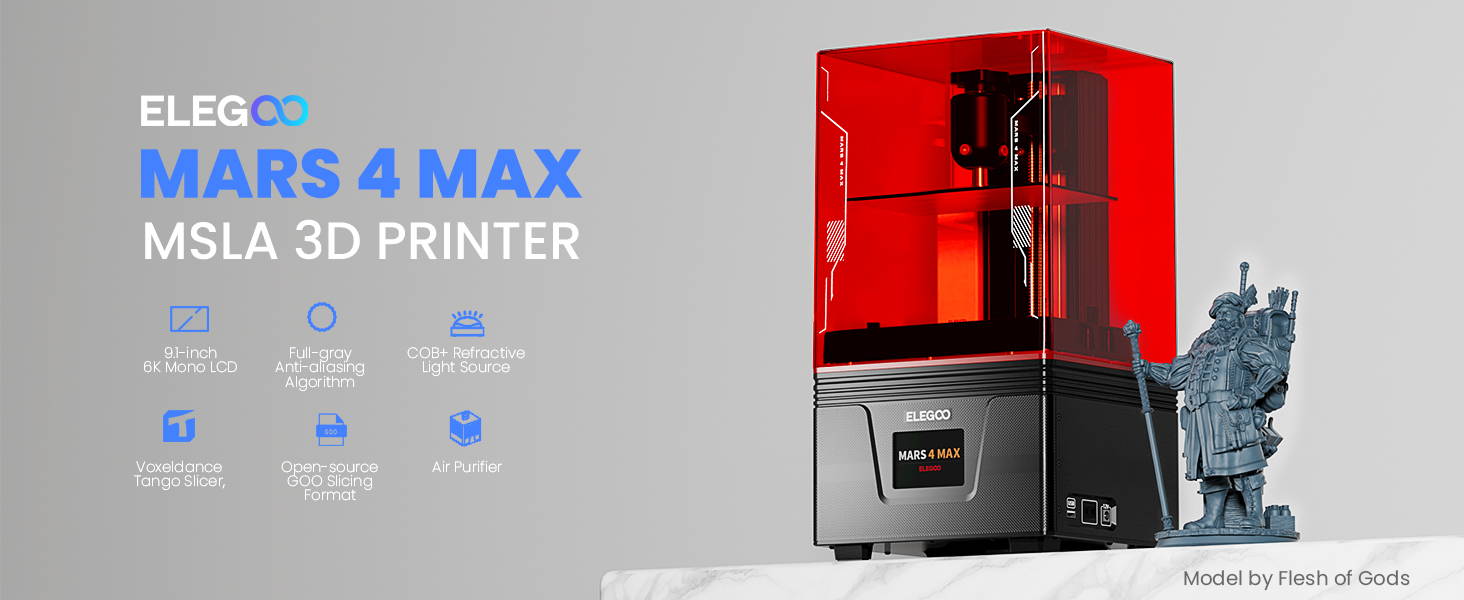 With a 9.1-inch 6K mono LCD screen of 5760x3600 resolution, you can print out highly detailed models at 34 microns XY resolution, with a faster printing speed of up to 70mm/H and a curing time of only 1.5-3s per layer. 
The replaceable tempered glass with 9H hardness effectively prevents scratches and damage to the LCD screen and prolongs its lifespan of LCD screen.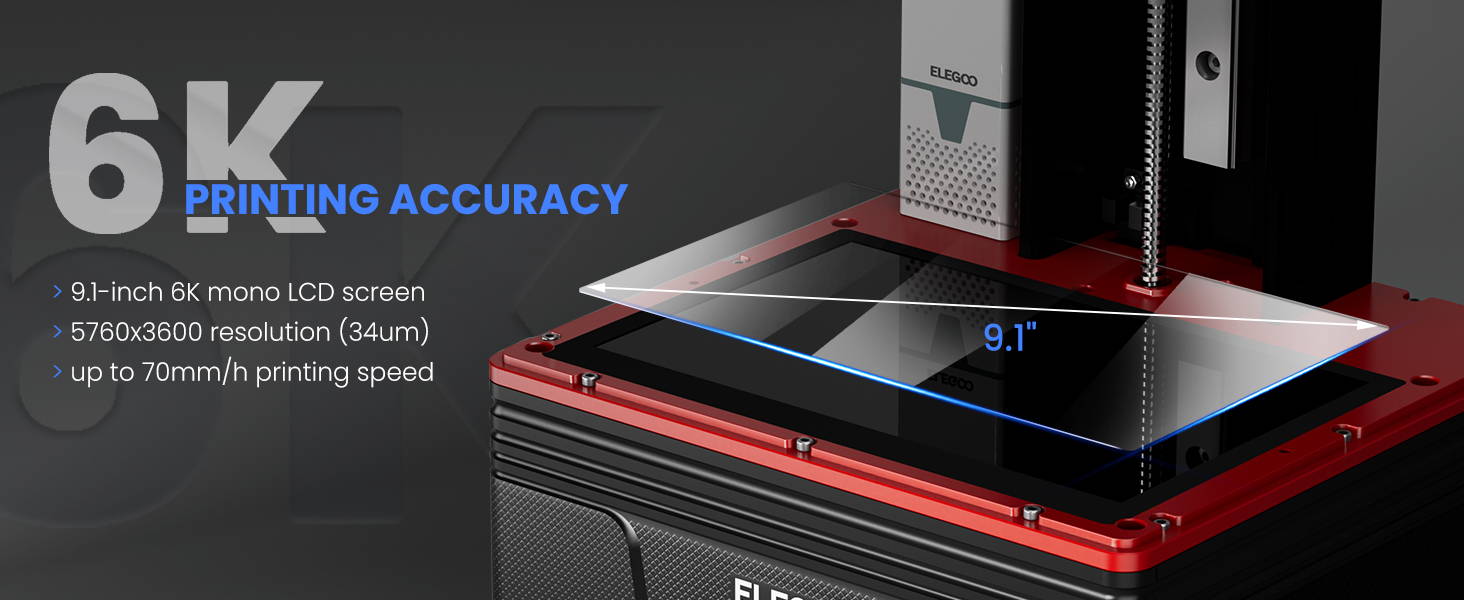 Stable Printing Performance
The 20mm thicker Z-axis linear guide rail effectively reduces the vibration amplitude during Z-axis movement and the layer pattern of printed models for a better printing effect. The sandblasted build plate increases model adhesion for a higher printing success rate.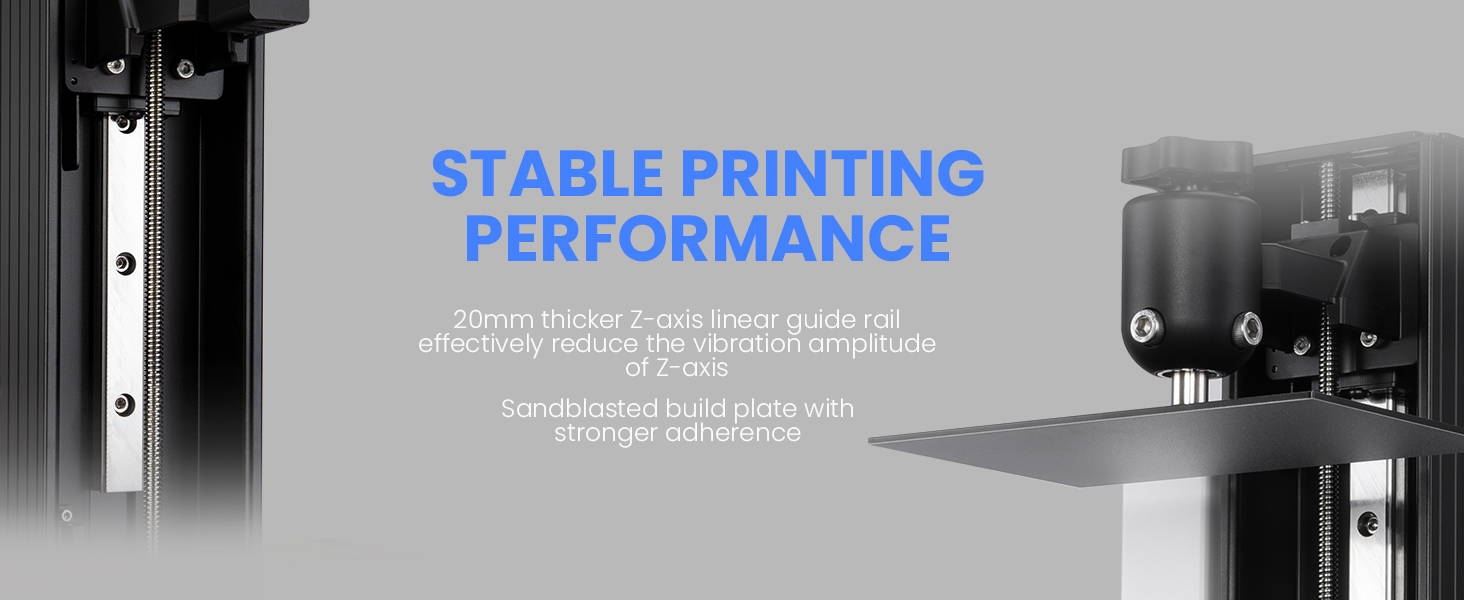 The COB+ refractive light source ensures that the exposure of the 405nm wavelength beam across the LCD screen is more even and vertical with consistent accuracy. Combined with full-grayscale anti-aliasing algorithms, which significantly reduces the "staircase" effect, resulting in finer details and a smoother surface finish.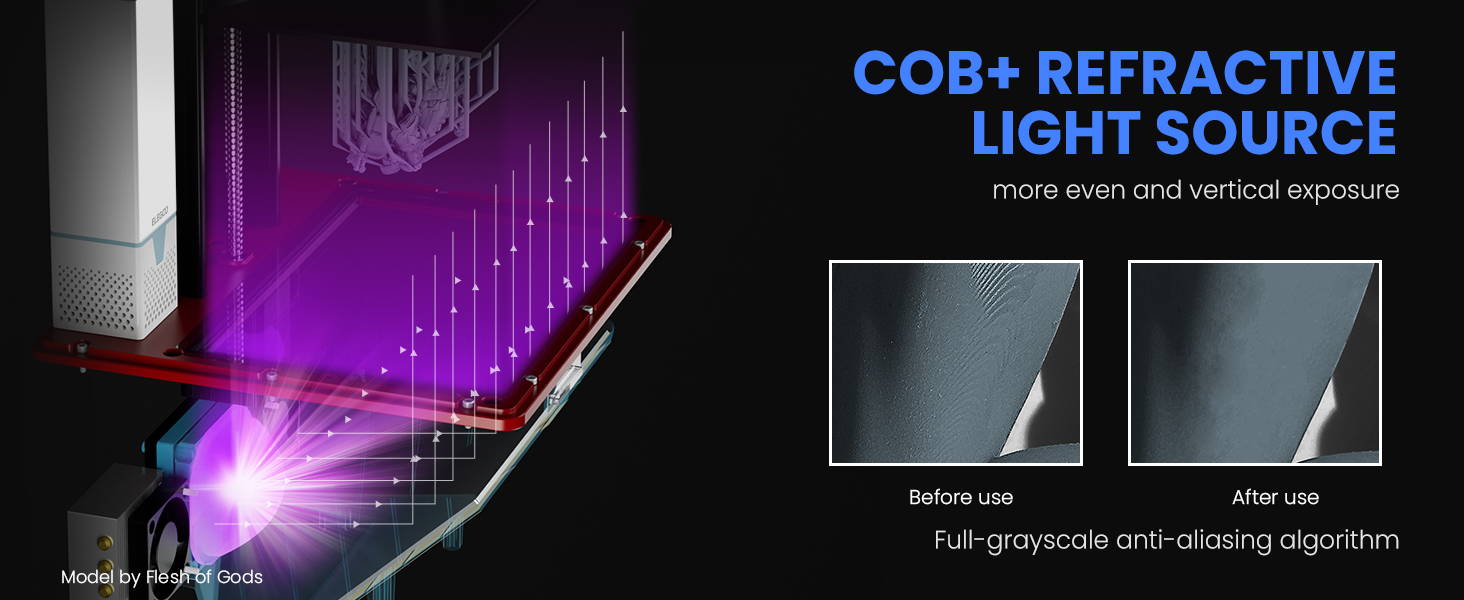 The dual cooling fan structure dissipates heat faster and more efficiently, thereby extending the service life of MARS 4 MAX. 

The air purifier is connected via USB, with an activated carbon filter to reduce resin odor in the printer chamber. You can also choose the upcoming ELEGOO's first large air purifier, which can remove formaldehyde and up to 80% of VOCs.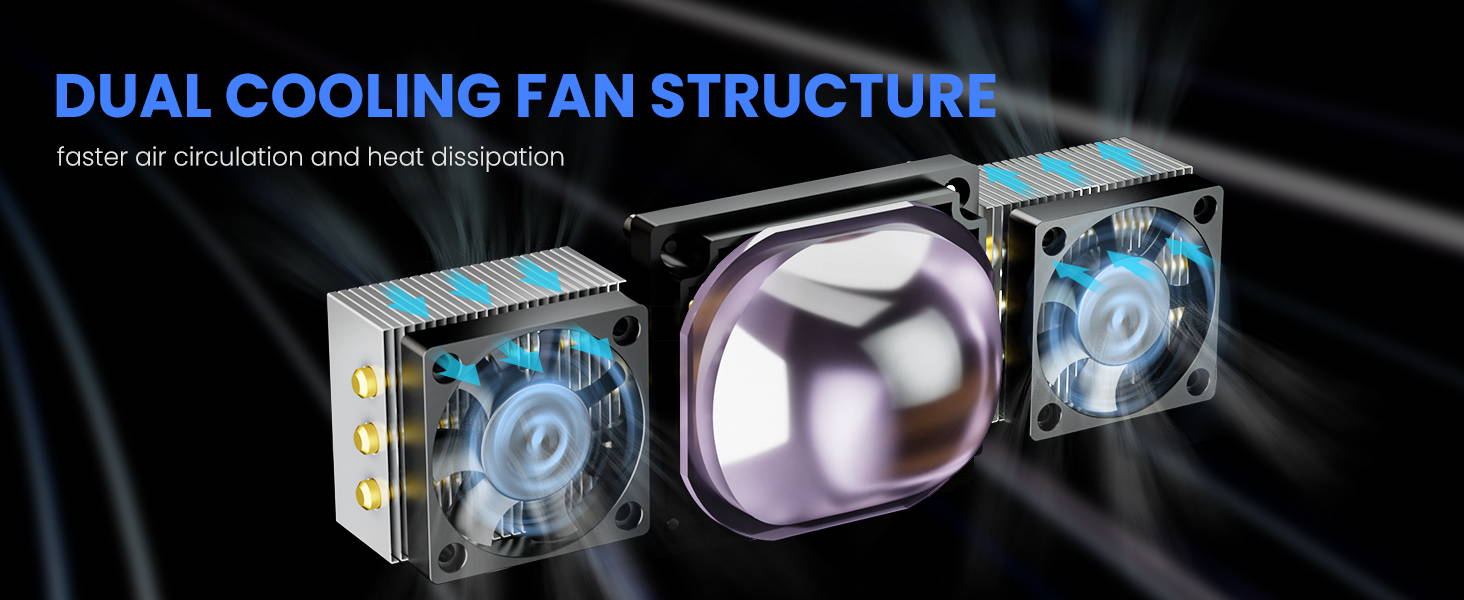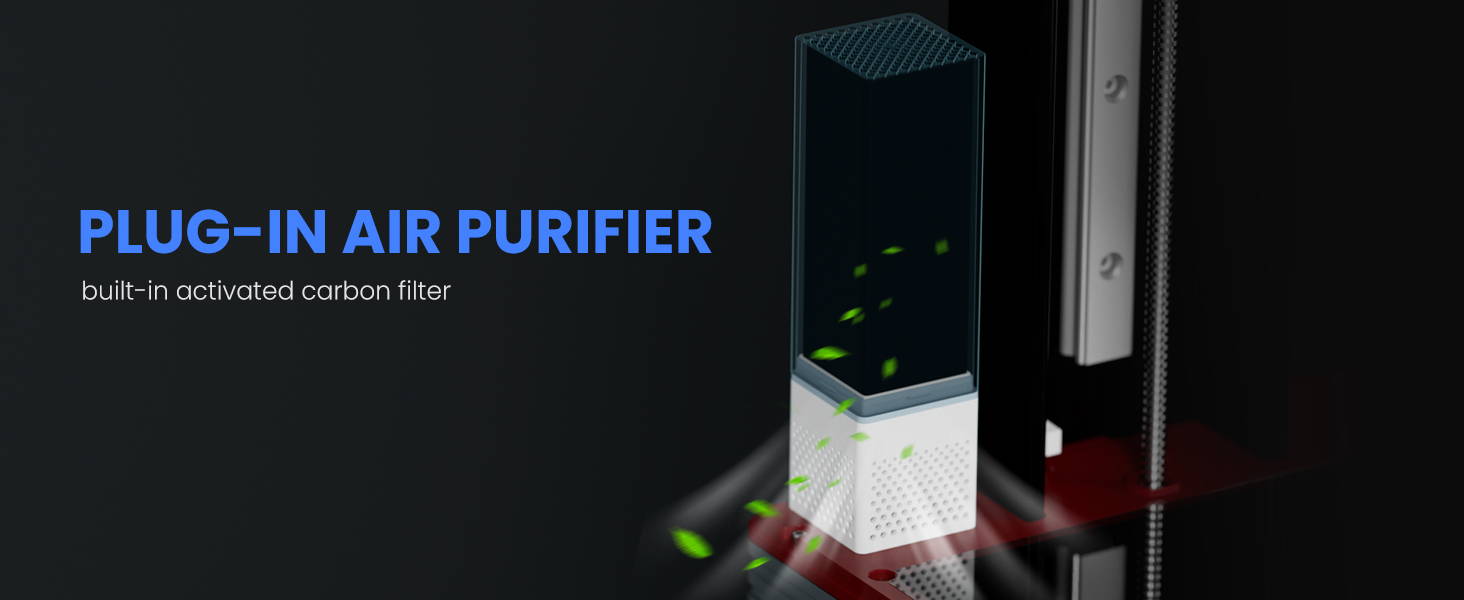 PFA release liner film with less release tension for easier model removal and a higher printing success rate.

3.5-inch color touch screen with an intuitive UI interface is highly responsive and easy to operate, and support multi-language free switch.
The Voxeldance Tango Software provides 3 printing modes: static mode and dynamic mode (including smooth mode and high-speed mode). When selecting the dynamic mode, it will adjust the printing speed dynamically according to the cross-sectional size of the printed model, which reduces the influence of release force and improves printing efficiency. 

Besides, ELEGOO has self-developed a new open-source GOO slice format, which is compatible with third-party slice software, such as CHITUBOX and Lychee Slicer.