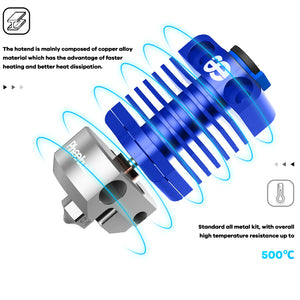 Dragonfly Hotend BMS All Metal Dragon Hotend Up to 500℃ Plated Copper Heating Block Nozzle Compatible with Prusa I3 CR10 Ender 3 3D Printer V6 hotend Prusa MK3 MK3S Titan BMG Extruder
【What Can You Get】Dragonfly Hotend BMS Pack include: Hexagon Bar(1.27/1.50/2.00 each), Open Wrench(5mm/12mm each), M1.4 Inner hexagon screws*2, M3 Fastening screws*2, Collect clip*1, Brass tube*1, Silicone sock*1, Thermal conductive silicone*1

【Materials Choice】The hotend' s core parts are mainly composed of copper alloy material which has the advantage of faster heating and better heat dissipation. Standard all metal kit with overall high temperature resistance up to 500℃. The inner hole roughness of the heat break ≤Ra0.3 which allow a smoother movement of filament.

【Outstanding Heat Dissipation】 Heat sink and heat break adopt conical surface fitting design, increase heat dissipation. Compatible 3D printer models: Prusa CR-10 / CR-10S series / CR-10 MINI / CR-20 / CR-20 Pro, Ender 2 / Ender 3 / Ender 3 V2 / Ender 3 Pro / Ender 5 / Ender 5 Plus / Ender 5 Pro

【What Filament can be used】 Dragon Fly BMO compatible with all filament PLA, ABS, PETG, TPU, PP, PC, Nylon, PEEK, PEI and composite materials containing abrasive additives, such as carbon fiber, steel, wood, boron carbide, tungsten and phosphorescent pigment.

【

Professional Technical Support】 If you have any problems or questions about our product, please feel free to contact us. We provide a 1-year warranty and lifetime technical support with service 24 hours a day.
Compatible with the most popular DIY printers such as:
Creality CR-10
Creality CR-10S
Creality CR-10-S4
Creality CR-10-S5
Creality CR-10 Mini
Creality CR-20 Pro
Ender 2
Ender 3
Ender 3 Pro
Ender 3 V2
Ender 5
Ender 5 Pro
Ender 5 Plus
TronXY X5S
TronXY XY2 Pro
Tevo Tornado
Alfawise U20
Lotmaxx SC-10